Heater Installation and A/C Installation by Gemini's Heating and Cooling
We can revamp or establish a new HVAC system for properties in and around North Andover, MA.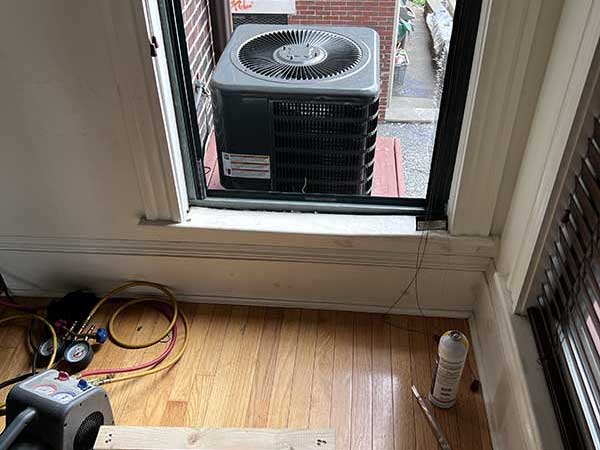 Quality & Dependable HVAC Installation
At Gemini's Heating and Cooling, we've made a name for ourselves through years of dedicated HVAC installation and replacement services in North Andover, MA. Both homeowners and business proprietors rely on us to deliver efficient, cost-effective solutions for optimizing climate control within their premises.
Navigating the sea of HVAC systems can be daunting, but we're here to guide you. Our expertise aids us in identifying the system that resonates perfectly with your specific needs and lifestyle—be it a fresh install or replacing an existing system.
Comfort is indispensable, and we stand by you in your quest to maintain a warm abode in winter and cool refuge during summer.
Customizable Installation and Replacement Services
As your trusted HVAC partner, we prioritize your convenience and cost-effectiveness. Commencing the replacement process by removing your old system, we pave the way for a seamless installation. Our team rigorously ensures the new installation operates flawlessly and adheres to local regulations before we conclude our service.
Our installation and replacement services encapsulate:
AC Installation
Mini-Split Installation
AC Replacement
Heating Installation
Heating Replacement
We're Here for You!
Our technicians are equipped with extensive training to rectify issues linked to your current system, ensuring the longevity and performance of your new setup.
Boasting a team constantly prepared to address your queries, Gemini's Heating and Cooling exudes friendly customer service. We are elated to deliver exceptional services at affordable prices right here in North Andover, MA.
Avail 10% Off on HVAC Services
Maximize your convenience by availing of our special 10% discount for military personnel and senior citizens!
Let's Connect Today
Cultivate your ideal indoor climate with our specialized A/C installation and heating installation services. Reach us at (978) 547-5433 or hiram@geminis-heating-cooling.com. Don't hesitate to stay updated on Facebook and Instagram. Your comfort is our commitment.